(877) 678-8726
- 1 WEST CAMERON AVENUE - KELLOGG, IDAHO 83837

Possible Problems with Drop-In Liners
With plastic "pop-in" bed liners, water and dirt can get trapped underneath the liner, resulting in corrosion and noise while driving. Turbo Liner prevents rust and corrosion by permanently bonding to any surface, without bolts or air gaps. It also deadens sound vibration giving a quieter ride. Plastic "pop-in" liners tend to warp and even crack in extreme weather conditions or from heavy loads. Again, this simply is not an issue for Turbo Liner.
| | Turbo Liner | Others |
| --- | --- | --- |
| Prevents Rust And Corrosion | YES | NO |
| Resist Scratches And Abrasions | YES | NO |
| Noise And Vibration Dampening | YES | NO |
| Warp, Crack And Split Resistant | YES | NO |
| Contour Fit Maximizes Bed Load Space | YES | NO |
| Maintenance Free | YES | NO |
| Reduces Slippage | YES | NO |
| Easily Repaired | YES | NO |
| Available In A Variety Of Colors | YES | NO |
| Air And Watertight Fit | YES | NO |
| Easy Accessory Installation | YES | NO |
Possible Problems with Polyurethane Liners
Polyurethane liners are sprayed in many different ways, but one thing holds true about almost all of them they dry slow. What happens when spraying Polyurethane is you end up with a thicker coating in the valleys and a thin coating on the peeks of the bed. The other thing about Polyurethanes is that most all of them have a really rough and chunky texture, short of looking bad the texture has no other function. Color stability is another issue with the polyurethane bed liners. Most companies don't use much UV protection additives if any at all in their materials, which causes them to chalk and fade out almost immediately.

Because polyurethanes have such slow dry times it allows the material to run down or sag, pooling up in the low spots leaving the material thin on the main or high spots of the bed surfaces, as illustrated above.
With a Turbo Liner this is not an issue. Turbo Liner's application process and dry times allows it to be applied in an even coat across all surfaces and it dries in seconds.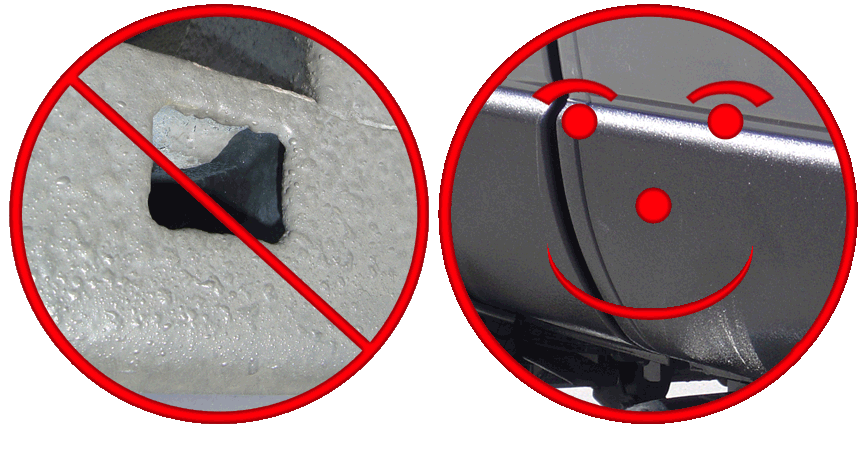 SAY GOODBYE TO POP-INS AND POLYURETHANE'S AND SAY HELLO TO TURBO LINER'S POLYUREA
Franchises are designed to lock you into a contract that benefits the franchiser
and not you the franchisee.  We want you to make money from the start without
all the extra overhead.
Click here to receive additional information and
Become a Turbo Liner Dealer
Contact Us: (877) 678-8726
1 WEST CAMERON AVE. KELLOGG, ID 83837