(877) 678-8726
- 1 WEST CAMERON AVENUE - KELLOGG, IDAHO 83837

If you have spray equipment already and are looking for a Premium Bed Liner Material Please Give Us A Call 877-678-8726
FASTER TOUGHER BETTER
At Turbo Liner, we believe customers want the same thing we would want for our truck beds. Quality, Durability and a Factory Like Appearance. Our Turbo Liner Bed Liner Product offer just that, a factory like finish, clean edges with no drips plus more resistance to UV rays than most other products on the market today. A Turbo Liner Bed Liner makes your vehicle or project looking better, longer. The Turbo Liner "Total Surface Contact" application prevents noise and vibration and remains flexible when sprayed to any thickness on a variety of surfaces including truck beds, wheel flares, bed rails, wheel wells, rocker panels, vehicle hoods, grills. Trucks are a very expensive investment. If your looking to protect that investment why wouldn't utilize the best protection available? Turbo Liner is just that, The Best Protection Available.
Turbo Liner also has a full line of industrial products.  Industrial coatings applications include mining equipment, powder magazines, tank linings, secondary containment's, floor coatings and so much more. (Dealers Welcome)
Construction
Concrete floors or foundations
Farming
Tractor parts, Fence posts, Horse stalls.
Marine
Boat trailers, Boat interiors and decks.
Outdoors
Ponds, Playground Equipment, Kennels, Flooring, ATV's and UTV parts
Mining
Shaft repairs, powder boxes and mining equipment.
Equipment
Backhoe's, Dump Truck's, Dozer's and other equipment parts.
Automotive Products
Technically speaking Turbo Liner is a Hot Spray Polyurea coating that uses high pressure heated equipment for its application. When sprayed Turbo Liner comes through the equipment at 160-165°F with a spray pressure of approximately 2200psi. The heating of the material greatly speeds up the application process. As Turbo Liner is being sprayed it takes 6-8 seconds to setup and is ready to use for normal use in just 6 hours. So if your buying a new truck the dealer could spray your bed liner in about the same time it takes to sign the paperwork. Its Just That Fast!
Industrial Coatings
Turbo Liner has a full line of customized, high performance Polyurea and Polyurethane coatings. We have been a part of the industry for nearly three decades. We have a wide variety of single-plural component, aromatic, aliphatic polyurea, polyurethane and  polyaspartic coatings that are designed to coat, protect and waterproof a wide variety of substrates. We have products that work in even the harshest environments and service conditions.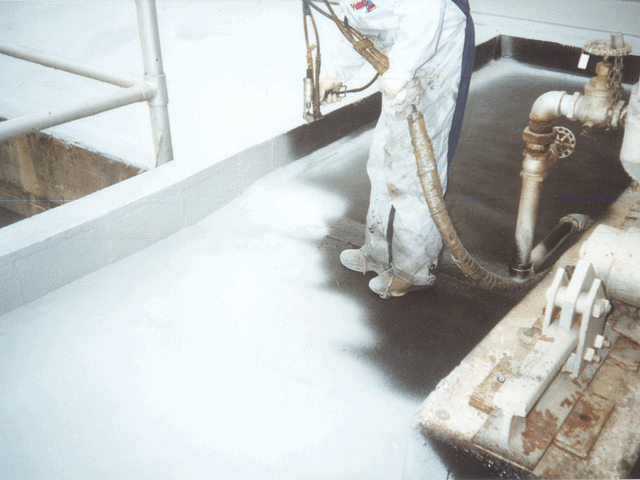 Turbo Liner uses the latest technology to give you good color stability and a clean factory like finish. We at Turbo Liner feel that giving a good quality product is best for us, our dealers, as well as, you the customer. Just remember, "A Hot Spray is the Only Way."
Prevents rust and corrosion as well as resists scratches

High heat and pressure application

Noise dampening

Contoured fit to reduce slippage
Factory like appearance and improves resale value

Greater UV stability

Theft proof
We are proud of the service we provide our dealers and the results they can produce with our product. 
Turbo Liners superiority lies in its base material, POLYUREA. Unlike the polyurethanes of the past that are still being used by some of our competitors, Turbo Liner only takes about 1 hour to install and is ready for regular use in just 6 hours. Some competitors products take from 2 to 8 hours to install and may take 2 days or more to be ready for actual use. Turbo Liner will withstand higher sustained temperatures (up to 350 F) than leading polyurethane products. Polyurethane products tent to start to break down at 120 F but that's not the case with a Turbo Liner bed liner. Turbo Liner does not react to water and/or moisture during its application. Some polyurethane products can emit hazardous vapors when they come in contact with water and or moisture during spraying.
Franchises are designed to lock you into a contract that benefits the franchiser
and not you the franchisee.  We want you to make money from the start without
all the extra overhead.
Click here to receive additional information and
Become a Turbo Liner Dealer
Contact Us: (877) 678-8726
1 WEST CAMERON AVE. KELLOGG, ID 83837